It was havoc when
Peter Crouch
headed in a last-minute first goal in the 83rd minute. Multiply the havoc twice when
Steven Gerrard
blasted a superb second into the top corner with his left foot 8 minutes later.
But in my opinion as a
non-football-fanatic
, the
main highlight
of the match happened on the
28th minute
:
A painful moment for Yorke as he blocked a thundering shot by Steven Gerrard on the edge of the area with his midriff and had to leave the field briefly for treatment.


Get it?
If not, I'll give you a clearer picture
(I drew but failed miserably)
of the scene if you didn't catch the match: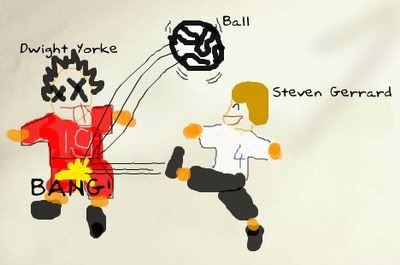 @#$!%& Ouch!

=P