Argh, it was a screwed up game. The
Frenchmen
weren't doing their best, we can see that. A goalless draw? Just plain weird. Just like England's game against Paraguay.
OMG, this is coming out from a
non-football-fanatic
. That's
also
plain weird. Maybe because I've decided to support France on this year's FIFA World Cup.
***
Spent the evening at Asia Club foosing. Finally met
Yee Leng
there. Take a look at this particular reply she posted in her tagboard right after I left my house: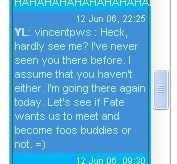 (Her tagboard's time and date were screwed up)

Yeah, fate brought us together and now we're
foos buddies
.
Lol~

Went back home for dinner. After dinner,
Jin Li
,
Bavany
and I decided to go out again because we didn't want to spend the night at home. We ended up catching the 9:45pm's
Benchwarmers
at One Utama. The movie was purely lame and funny.
Oh, and I made a record-breaking time driving from Subang Jaya to One Utama through LDP in
exactly
15 minutes and 9 seconds
. That was
speeding
. I had no choice, because when I left my house, the clock was already ticking its last few seconds to half-past nine.
*faces down with guilt*
After the movie, we called
Kok Keith
up for directions to a dining place called
William's
in Taman Mayang. We managed to get there without much trouble thanks to
Keith's
directions and my
bantai-driving-instincts
. =P
Ahhhhhhhh,
Brazil's
match against
Croatia
is starting! Time to go!
Till the next post.